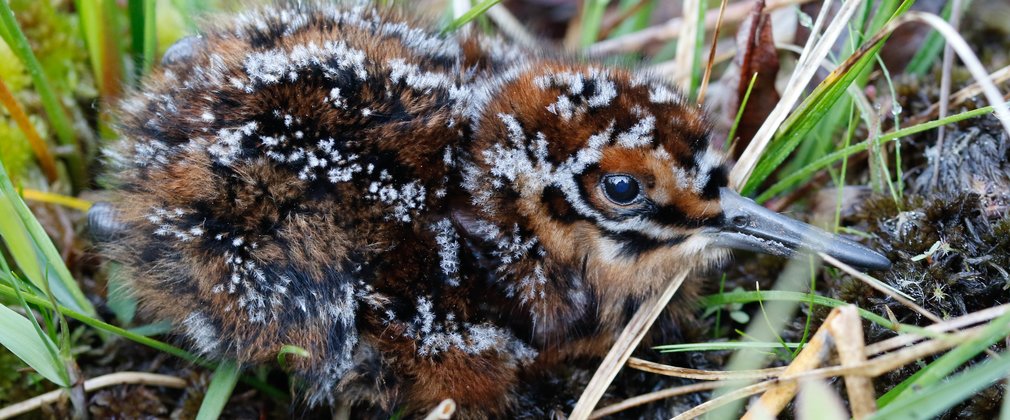 Body
Birdlife in the New Forest
The New Forest is a Special Protection Area for birds due to the wide range of species which live or visit here attracted by the mix of carefully managed habitats. Our team of New Forest Keepers, a specialist group looking after wildlife, spend many hours observing and monitoring the bird's fortunes. Here Andy Page, Head of the Keeper team, shares a few highlights and observations from this year's breeding season.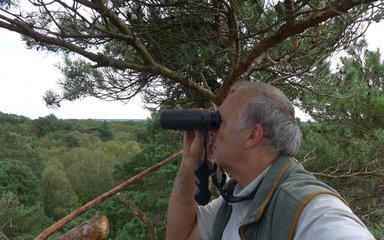 Watching and learning
I've been monitoring wildlife in the New Forest for over 35 years.  Bird life is a personal passion of mine and over the years I have followed the fortunes of many of the New Forest's key species.
From years spent working here we tend to know the areas the birds prefer and how they might respond to habitat management, and seasonal weather fluctuations. I have been struck by how fewer and fewer of our summer migrants seem to arrive each year, emphasising the changing world around us and the perils of long-distance migration. However, it also highlights the value of the long-term monitoring of key species we undertake, enabling us to detect and quantify these changes.
It can be extremely hard to locate certain species, and a lot of patience is required!
Watching the birds for signs of courtship behaviour, observing nesting activity, chick feeding and listening to different calls and communication between the birds all offer vital clues in assessing where the birds are and how they are faring. And we can increase our chances by going at the best times of day, usually early in the morning.
We are also assisted by technology, using hidden cameras, satellite tracking, ringing and thermal imaging to help us better understand the threats and issues they face.
We meet many people when out on the Forest, and it's been extremely positive to see a growing awareness amongst the public of the current plight of many of our bird species and an understanding of how they can help by sticking to the main tracks and importantly keeping dogs under close control. By working together, we can achieve the governments nature recovery aims and halt the further decline of once common species.
Mixed fortunes
Our observations through 2022 suggest it was a mixed breeding season this year.
With such a hot and dry spell through spring and summer, it appeared good conditions for raising young. However, the hard baked ground made finding food difficult for species like thrushes and blackbirds that probe for worms and invertebrates. Out on the wetlands and mires of the Forest snipe seemed in good numbers and the early nesting lapwing had a much better season with a good number of chicks reaching fledging as they were able to take advantage of the good weather before the ground dried out completely later in the season. Other early heathland nesters the woodlark and stonechat also took advantage of the good spring weather, and I observed numerous broods of fledged chicks.
Unfortunately, numbers of the endangered curlew remain critically low, as do redshank.
In contrast the nightjar, another ground-nesting bird which fly here from Africa to breed seem to have fared well and being an insect eater were not adversely affected by the weather.
Key New Forest woodland species including goshawks, hawfinch and firecrest all seemed to do well again this year.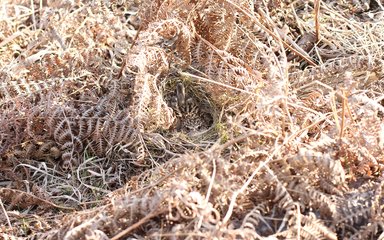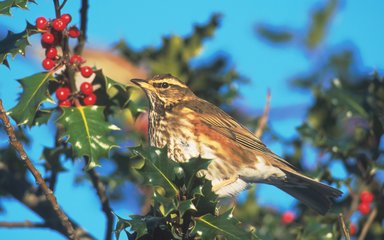 Changing of the seasons
The end of the main bird breeding season doesn't signal quieter times ahead. The New Forest has such diverse habitats including wetlands, heathlands and woodlands that many different species of birds come here to over-winter.
Autumn is a time for making the most of nature's natural bounty. Flocks of small songbirds like chaffinch mix with their returning winter cousin the brambling, taking the opportunity to feast on beech mast in the woodlands. I eagerly anticipate seeing the arrival of large flocks of fieldfare and redwing who overwinter here from Russia and Scandinavia attracted by food sources like holly and hawthorn berries.
During November we will start to see an influx of migratory woodcock from Russia who join those already resident here for the colder months of the year. Migratory wildfowl flock to the Solent and regularly venture into the wetland areas of the Forest to feed on its numerous small pools and ponds.
If we are really lucky, we can occasionally see the two or three great grey shrikes that winter here or the handful of enigmatic hen harriers that hunt and roost out on the heaths.