Real Christmas Trees at Alice Holt Forest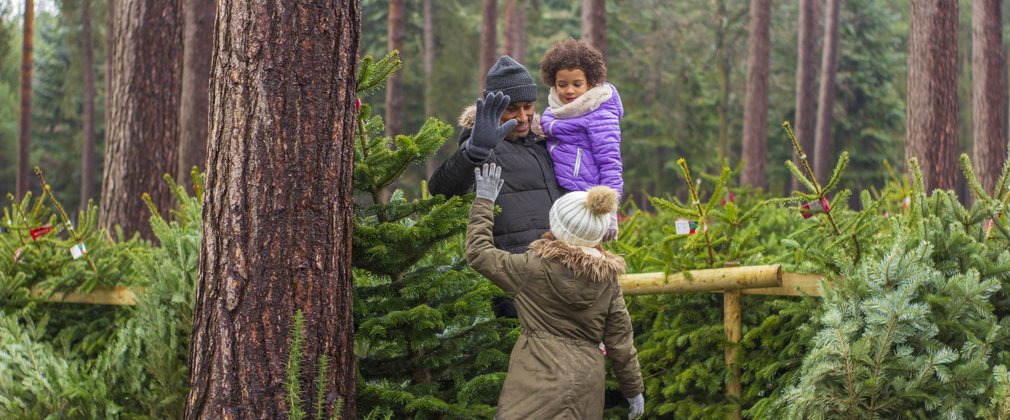 Your Christmas begins at Alice Holt
Looking for a real Christmas tree near you in Surrey or Hampshire? 
Buy your real Christmas tree from Alice Holt Forest, near Farnham this year for a wonderful experience and the highest quality, British Christmas trees.
Available from 23 November-19 December 9am-5pm.
What to expect 
Our friendly team will be on hand to help you to pick your perfect tree. Make a day of it and take a wintery stroll around our forest. An hour of parking is free when you buy a tree, deducted at the pay machine when you leave.
Real C

hristmas trees
We have a selection of Fir and Spruce trees. Tree prices start from £15 for a 3ft Spruce.
Nordmann Fir 3 -15ft

Norway Spruce 3 -15ft

Potted Trees upto 5ft
Nordmann Fir
The Nordmann Fir is the most popular Christmas tree in the UK due to their symmetrical shape and strong branches. These trees are low drop and good at retaining their soft dark green needles, making them perfect for all the family to decorate.
Traditional Norway Spruce
For many the Norway Spruce is the traditional Christmas Tree.  They are deep green in colour with a lovely, fresh, pine scent. These stunning trees evoke the shape, smell and tradition of Christmas past.
Potted Trees
We offer a variety of potted trees, including Norway Spruce and Fraser Fir. Our potted trees look superb decorated and with a little water will keep their freshness and survive indoors over the Christmas period. Potted trees are available up to 5ft in height.
All prices can be found here: Our Trees 
What makes our Christmas trees so special?
Quality: High-quality trees are grown in Britain - so you can be proud of your superior quality tree
Experience: Choose your tree from a beautiful forest location to kick off your Christmas celebrations 
Expertise: Christmas tree experts can help you choose the right tree for your home
Support your forests: The money raised from your Christmas tree helps us maintain the forests for wildlife, for you, and for future generations
Treasured family traditions make Christmas extra special so join us this festive season to make choosing the perfect tree part of yours. Wrap up warm, pull on your boots and make it a day for everyone to remember at Alice Holt Forest.
The Zog Trail is getting a twist!
From 24 November, pick up your Zog Christmas clue leaflet for just £1.50, or free if buying a Zog Trail pack and go in search of festive clues along the Zog Trail. Once you've cracked Zog's Christmas code, return your clue leaflet to pick up your prize, a special Zog Christmas decoration.
More information
Alice Holt Forest, Bucks Horn Oak, Farnham, GU10 4LS
Christmas tree sales run from 23 Nov to 19 Dec, 9am to 5pm, 7 days a week
Costs vary depending on the size and species of tree you choose!
1 hour free car parking when you buy your tree.