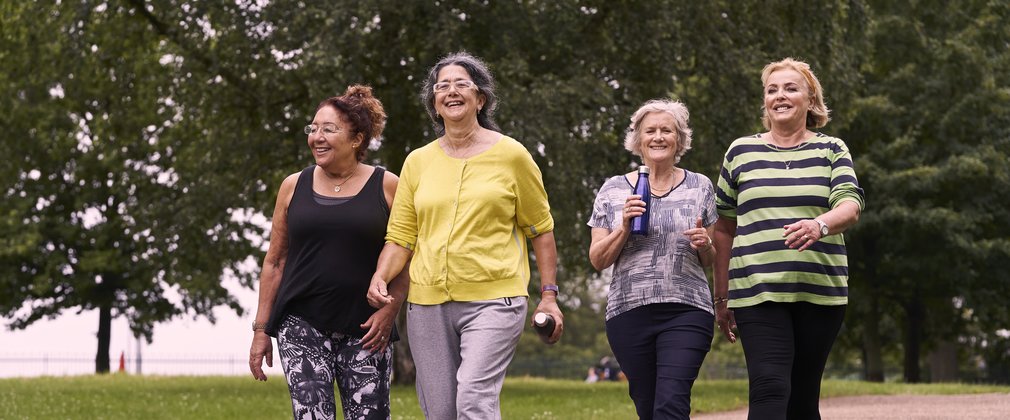 Feel Good in the Forest is Forestry England's new social prescribing project aimed at improving the physical and mental health of those in most need. The project is based in Chopwell Wood and Thames Chase Forest Centre.
Taking part in forest activities encourages people to become more active, increases confidence, helps maintain a healthy weight and can alleviate symptoms of long-term health conditions. We're running weekly walks at both sites and with sufficient interest we'll be expanding the activities to include yoga, seated exercise, cycling and more.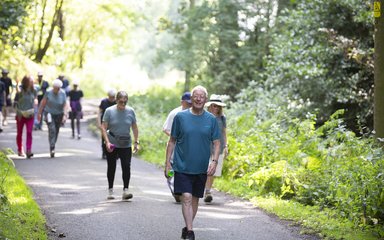 Who is it for?
This supportive programme of activities is for anyone looking to improve their health and wellbeing, meet new people and enjoy being outdoors. People can self-refer or be referred by a support organisation/worker. 
All activities are free to participants and include post activity refreshments and time to socialise. 
Read Lorraine's story to hear how she improved her physical and mental health by taking part in forest based activities.
What activities are available? 
Forests provide an inspiring environment for a whole range of activities for people of all abilities. If you're looking to improve your wellbeing and meet new people, join us on a Feel Good in the Forest walk. The walks are taken at an easy pace with no significantly steep climbs and are followed by a cuppa and social chat. 
Hear from a participant at Chopwell Wood who used the weekly walks to help her get back to 'normal' after shielding throughout the pandemic.
We are always developing new ways to make movement fun in the forest. We love learning from others and putting on group activities to meet your needs, so if you have an idea for an activity, or you're an activity provider with an idea, please contact the Active Forests Coordinators, Lucy (for Chopwell Wood sessions) or Rachael (for Thames Chases sessions), to suggest new Feel Good in the Forest Group Sessions. Their details are below.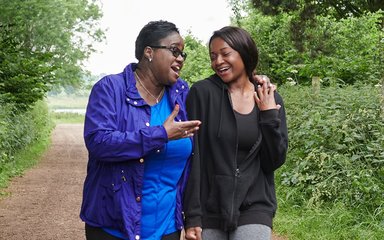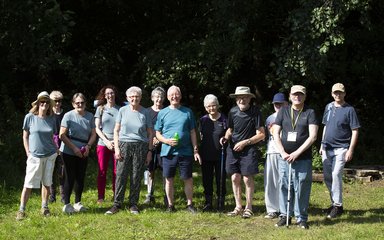 For individuals
Feel Good in the Forest is open to any individual who is looking to improve their health and wellbeing. Speak to an Active Forests Coordinator and come along to the next session.
For groups
Your organisation may prefer to join us for a closed session for your group. These sessions are also free and can be designed collaboratively with our friendly Active Forests Coordinators.
I have enjoyed today's activities walking through the wood was lovely, enjoying the scenery and flora – lots of wild flowers. The relaxation part was super I feel really relaxed and will look forward to coming to another session.
Locations and contacts
If you're interested in finding out more about the programme and the activities on offer, please contact the Active Forests Coordinator at the site you are attending.
Chopwell Wood is about 10 miles south west of Gateshead. The road entrance to the car park is in the Hookergate area of High Spen village, off the B6315.
Sat Nav postcode: NE39 2AG
Active Forests Coordinator: Lucy Brenkley
Phone: 07771 885084
Email: lucy.brenkley@forestryengland.uk
Thames Chase is a collection of several sites around Upminster on the Essex border. These include Ingrebourne Hill, Pages Wood, Thames Chase Forest Centre and Harold Wood. Weekly walks will be held at Ingrebourne Hill, but with sufficient interest, they could be hosted at other sites.
Sat Nat postcode: RM14 3NS
Active Forests Coordinator: Rachael Purchase
Phone: 07775 019588
Check out the Q&A page to hear from participants on the Feel Good in the Forest project!