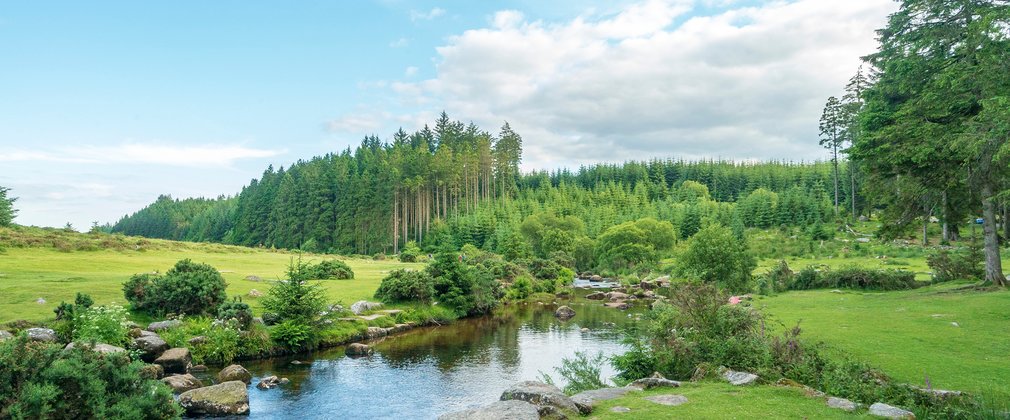 Seven simple ways to connect with forests at home
The government has asked us all to stay safe by staying at home, but if you're missing forests and nature as much as we are, look no further: Forestry England is here to help by bringing the best of forests and woodlands straight to you, at home. We've created a forest full of ideas and information to help you stay connected to nature, complete with activities for the whole family. Whether you're looking for activities to keep the kids entertained or need some head space to improve your wellbeing, here's all you need to stay wild at home.
Play Tree Trumps
Download and print your very own game of Tree Trumps to get to know the different species growing in our woods and discover some of their leafy secrets! Did you know that the English oak tree can live for 800 years? Or that the Sitka spruce can grow up to 100 metres tall? Download and print your own set of cards, and challenge your family to a competition of height, timber value and most importantly, climb-ability!
Virtually visit the Ospreys at Northumberland's Kielder Water & Forest Park
Ospreys have returned to nest in the forests of Kielder Water & Forest Park for the twelfth year in a row. Before their recolonization, ospreys had not been observed in Northumberland for nearly two hundred years. Thanks to the help of nest cameras, we are delighted that the first eggs of the season have been laid! The footage is being closely monitored by dedicated Osprey Consultant, Joanna Dailey. Get regular updates on their progress on the Kielder Osprey Project blog throughout the breeding season, or read Joanna's most recent highlights.
Learn all about how we collect seeds for future forests
Alice Holt Forest in South England is home to Forestry England's only seed extractory – a facility where each year seed cones, acorns and other seed pods are delivered from right across the nation's forests to be processed. Through a series of weird and wonderful machines it extracts millions of seeds that are then used to grow trees and plant forests of the future. The extractor is having a bumper year this year and expects to produce over 2 tonnes of seeds – that's enough to produce around 400 million trees! It is still operating during the current crisis in order to ensure this supply of seeds isn't interrupted. Watch how it all happens here. 
Try virtual forest bathing
Did you know that successful athletes often talk about visualising themselves winning a race – and that just picturing their success has been proven to improve their performance? If you're feeling anxious or stressed, the same trick can be used. The Japanese practice of forest bathing, or shinrin yoku, is the simple method of being calm and quiet amongst the trees and has been proven to help both adults and children de-stress. All you need is a comfortable place to sit or stand - find out how find out how here.
We've also created a special forest bathing activity sheet especially for kids. Just find a quiet spot where they feel safe and relaxed and start practicing the art of forest bathing!
Have a game of Nature Bingo
Nature bingo is a perfect way to help you be more mindful of your surroundings, or to keep the kids entertained. We've put together a checklist to get you started: 
Seek something made of wood. Can you see lines and patterns in the grain?  

Spot a nearby tree. Does it have any buds?  

Find a flower. Is it on a plant or tree? Spring is in the air, so keep a special eye out for cherry blossom! 

Spy a bird. Is it up high or close to you?  

Inspect an insect. You might spot a butterfly out the window, or a spider web in the house. 
First to spot and photograph everything on the list shouts "Bingo". 
Tune into some top nature podcasts
A great place to start is the fantastic Roy Dennis Wildlife Foundation podcast. We've been working with Foundation to bring white-tailed eagles back to woodland on the Isle of Wight, and Roy's podcast is a great way to learn more about this fascinating project and to hear from many of the passionate experts involved. Then, read the full roundup of our other current favourite podcasts.
Take a moment to breathe
Join us for #TeaTimeTreeTime on Twitter https://twitter.com/hashtag/teatimetreetime - Tune in at 4pm every day on Twitter for a moment of stillness.
We can't wait to welcome you back to the forest – when it is safe to do so. Until then, visit our website for even more ways to stay connected: https://www.forestryengland.uk/forests-at-home
Notes to Editor
Forestry England manages and cares for the nation's 1,500 woods and forests, welcoming 230 million visits per year. As England's largest land manager, we shape landscapes and are enhancing forests for people to enjoy, wildlife to flourish and businesses to grow. In 2018/19 84% of our income was self-financed with just 16% public funding. For more information visit forestryengland.uk. Forestry England is an agency of the Forestry Commission.
Images available for download here: https://www.dropbox.com/sh/78p6bslcn20hdmk/AAAAkElmhDgoh-Ngp_I6tFcNa?dl=0 – please credit Forestry England.
Media Contact:
Hayley Coristine, Media Relations Officer, Forestry England
E: hayley.coristine@forestryengland.uk, M: 07867 190489
Stuart Burgess, Media Relations Manager, Forestry England
E: stuart.burgess@forestry.england.uk, M: 07785 748351