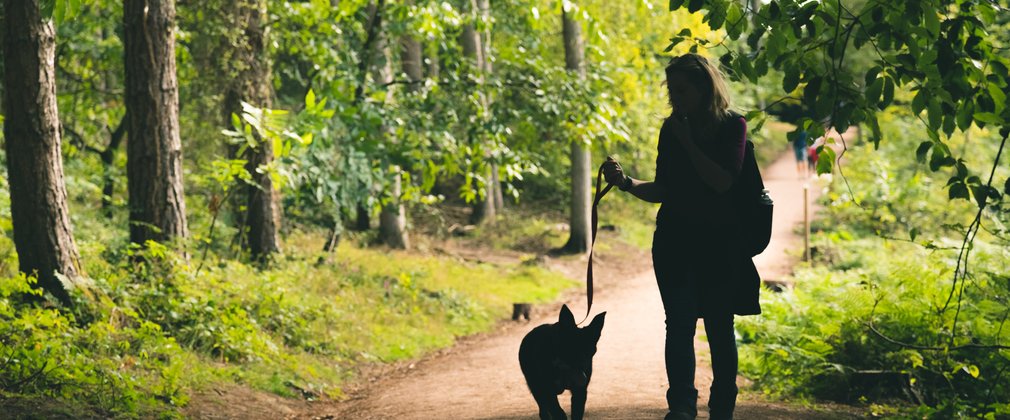 Whether you've just discovered your nearest woodland, or you're thinking of visiting for the very first time, check out our visitor's guide to the forests for everything you need to know for your first forest foray. 
The good news is, there are forest adventures for all ages, abilities and fitness levels. Looking for an adrenaline buzz to wake you up after months indoors? Splash through puddles mountain biking, fly through the trees on a Go Ape tree-top course, or go for a woodland run with your canine companion. If you're seeking something a bit more 'zen', relax your senses under the forest canopy and take in the fresh forest air. With stunning wildlife, relaxing cabin breaks, photogenic scenery, we've got you covered.
Take to the trails on your bike
Since the lockdown, record numbers of us have bought bikes and started exploring new cycling routes. With over 2,500 km of cycling trails, from gentle family routes (and learning to ride guides) to bike skills areas and adrenaline-fuelled downhill MTB, we've got the trails for you.
When you're out on your bike, please remember to respect other forest users, bring and wear the right equipment for the terrain, and stick within your skill-limits to ease the strain on the NHS. 
Swing through the tree-tops with Go Ape
Perfect for getting the blood pumping after being stuck indoors for the last few months, Go Ape will have you flying down zip wires, leaping off Tarzan swings and testing your nerve on daring crossings whilst enjoying views of our beautiful woodlands.
The best thing is, each Go Ape course is different, so once you've had a taste, there's always more adventure to be had! Find out how they'll keep you healthy with their new COVID hygiene measures, then make sure you book your adventure in advance.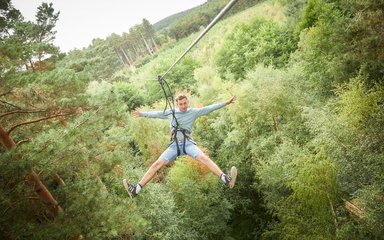 As you might expect, the coronavirus guidelines mean some things are running a little differently in the forest. Make sure to check out our guide for what to expect during coronavirus before visiting!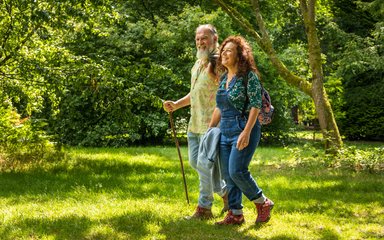 Explore on foot
Walking in the forest is the perfect way to improve your health and explore England's most beautiful habitats. With stunning viewpoints, cutting-edge art and sculpture trails and wildlife hides, Nordic Walking events, quiet riverside strolls, and leg-stretching hikes, our woods and forests are the perfect place for a woodland walk.
Make sure you're kitted out in the right gear for walking and be prepared for all weather conditions. Being prepared can make all the difference, particularly as some things are running a little differently at the moment – check our website before you visit for the most up to date information.
Take care of your wellbeing
Research shows that spending just 2 hours a week in nature significantly improves our health and satisfaction. 
Discover the research and stories behind the positive impacts visiting a forest has on your wellbeing. We've even got some guides for 'forest bathing' – the simple method of being calm and quiet amongst the trees, observing nature around you whilst breathing deeply.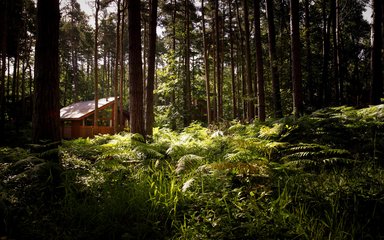 Take a relaxing weekend break
With the last few months being so hectic, it's important to take some time to slow down. Luckily some of our forests offer the ultimate staycation experience, with Forest Holidays cabins nestled deep within the trees. 
Many cabins are dog friendly and each has its own outdoor hot tub where you can unwind surrounded by nature. Perfect for spending a night under the stars in the heart of Britain's most beautiful forests. 
All Forest Holidays locations are eco-sensitive - funding the protection of wildlife, enhancing biodiversity and ensuring we can all enjoy that special feeling of being in the forest for generations to come. 
"Going to the forest helped me to heal. The combination of sounds, smells and abundance of life doesn't exist anywhere else. I'd be lost if it wasn't for the woods." - Penny Thomas
Keep an eye out for unique and special wildlife
We are leading moves to nurture and protect rare and endangered species such as the red squirrel, the dormouse and the pearl-bordered fritillary butterfly. We've worked tirelessly to see beavers and white-tailed eagles returned to our woods in recent years also.
Keep an ear and an eye out, and you might just spot rare and exciting species on your forest adventure.