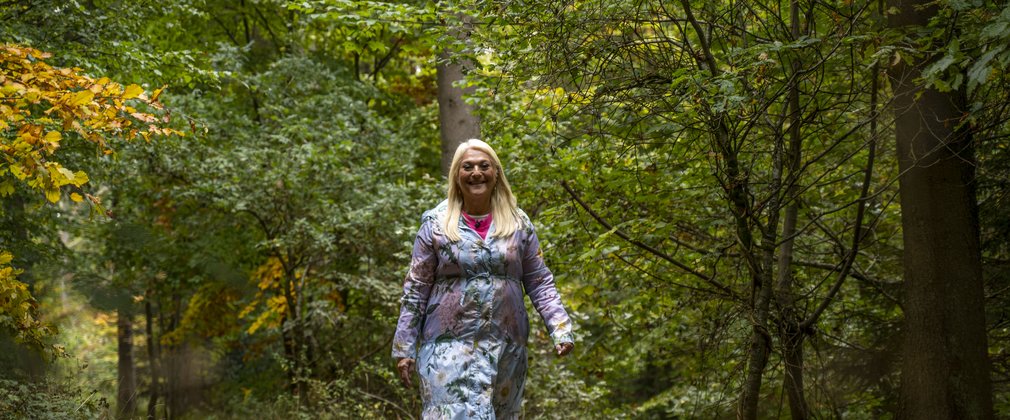 Broadcaster and TV personality Vanessa Feltz is no stranger to exploring a new area with a story to tell. Little did she know there was a whole new world waiting right on her doorstep. Just a stone's throw from London, Vanessa spent a day visiting the wonderful Wendover Woods to enjoy all it has to offer.
Away from the hustle and bustle of the city, she wandered through winding woodland trails and even squeezed in a visit to the site cafe. Join us as we retrace her steps and discover all of the wonderful ways nature can ignite our senses.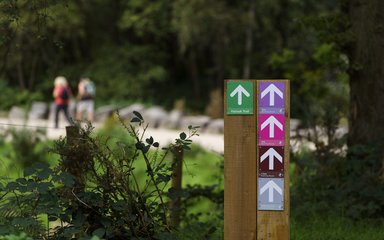 See all there is to do

Did you know that everybody in England is just one hour or less away from one of the nation's forests or woodlands? Vanessa was surprised to discover this leafy sanctuary on the outskirts of the city, where the trees were abundant and you could see beauty everywhere. With a quick search on our map, you might find out that your very own forest haven is closer than you think.

Whether you've got a full calendar like Vanessa and need a quick escape into nature, or fancy finding somewhere to walk the day away, the forest is waiting for you. With fantastic facilities, waymarked trails and friendly faces around every bend, it's the perfect way to explore the outdoors at a pace that feels comfortable for you. 
Listen to the sounds of nature
Just like Vanessa, you can use the forest as a place to relax and reflect on what's really important. Stepping into nature allows us all to swap whirring traffic with beautiful birdsong, and let our daily worries float away in the gentle forest breeze.
 
If you struggle to quiet you mind, pop on a podcast whilst exploring our wellbeing trails, or give forest bathing a go. Meditation and mindfulness can feel intimidating, but this ancient Japanese method is the perfect place to start. Take a look at our forest bathing guide and begin your journey amidst the trees.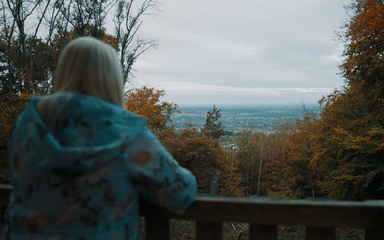 Enjoy the smell of fresh coffee
Getting outdoors doesn't mean you have to let go of your everyday comforts. Vanessa was surprised to find a spot to enjoy a nice cup of coffee and tasty lunch in the woods, but you can find excellent food and drink options for the whole family at sites across the country.

We know that there's no better way to end a walk in the fresh air than by treating yourself to some tasty refreshments. So, rest your legs in the cafe and share a slice of cake with a friend. You never know, you might run into to a famous face or two whilst you're there…
Get a taste of something new
Whether you prefer exploring on your own terms or want to join Vanessa and take to the trails on two wheels, there are so many opportunities to free your inner child in the forest. Enjoy a gentle stroll and some alone time, or get back on the bike and feel the wind in your hair once again.

There's no need to bring the kitchen sink with you on your visit, simply follow in Vanessa's footsteps by hiring a bike when you arrive. If you're up for an even bigger adventure, you could swing between the treetops with Go Ape or dance the day away at one of our incredible Forest Live concerts this summer. You don't need an excuse to find fun in the everyday, just a chance to escape to the trees. The forest is for everyone, for all ages, and for finding fitness that feels good.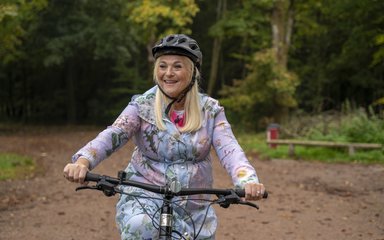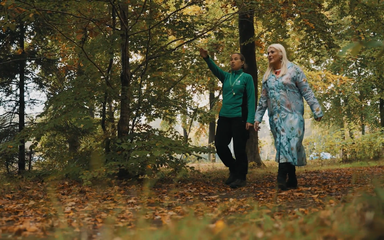 Get in touch before you go
We all deserve the chance to reconnect with nature, but if you're not familiar with the forest it can be a bit hard to know where to start. So, take Vanessa's advice and browse our website to ensure you feel comfortable with where you're going and what you want to do when you get there.
You can find everything from parking options to activities that fill the whole day, including running, walking and cycling trails for all abilities. We also offer great easy access trails around the country for those with accessibility needs, as well as exciting activity trails to keep the little ones entertained for hours. There really is something for everyone, including you. Are you ready to find out what it is?
Search for your local site and find your forest feeling