Autumn is the perfect time of year for a walk in Yorkshire, as the county's natural landscapes come alive with vibrant colours and crisp air during the season.
Yorkshire offers a variety of scenic locations for autumn walks, from the iconic Kilburn White Horse landmark to enchanting golden woodland. Discover a new favourite below.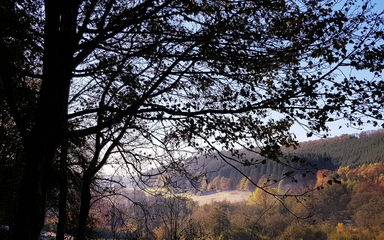 Dalby Forest, North Yorkshire
Although mostly evergreen, Dalby still makes for a stunning autumn walk. Head into the forest, soaked in warm orange light, and explore the 6km Dalby Beck Yellow trail for a mindful moment spent with nature.
Start at the visitor centre and climb out of the valley into the surrounding forest. It's worth the steep section because you'll be rewarded with the best views over Dalby Dale. Walk back down into the dale to join the Ellerburn Trail, and admire the colours of the valley as you head back to the visitor centre for a warming cup of hot chocolate.
Kilburn Woods, North Yorkshire
Nestled beneath the steep slopes of Sutton Bank, Kilburn is home to an iconic Yorkshire landmark, the White Horse. Constructed in the 1800s, this infamous landmark shines bright in the autumn sun and paves a way for a crisp, fresh walk through colourful woodland.
Starting at Kilburn Woods car park, choose from two routes undulating through dense woodland, bringing you out on the slopes of Sutton Bank for one of the most spectacular views in England. You may also spot some gliders taking off from Sutton Bank to enjoy the Autumnal colours from above!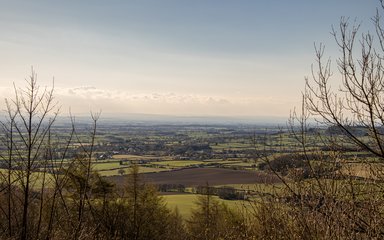 We want to see how autumn captivates your senses! Share your most colourful and crunchy snaps of the forest with #AutumnLeafWatch on Twitter, Facebook or Instagram to win a £200 gift card, Forestry England national membership and t-shirt!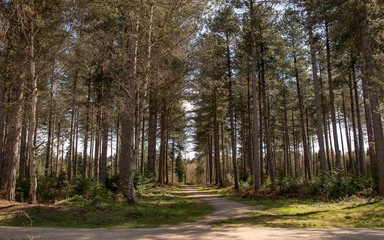 Wheldrake Woods, York
A stone's throw outside York lies Wheldrake Wood, the perfect Autumnal escape from the buzz of the city.
Take a stroll along the flat woodland trails and keep your eye out for a fantastic smorgasbord of fungi popping out with the changing season. This stunning mixed woodland is perfect for an easy family walk amongst the changing trees.
Guisborough Forest, Pinchinthorpe
This enchanting woodland, with its dense canopy of mixed trees and meandering trails, becomes a tapestry of vibrant colours and a haven for nature enthusiasts.
Follow the trails to be rewarded with 360 views over Roseberry Topping, Teesside and the Yorkshire coastline.