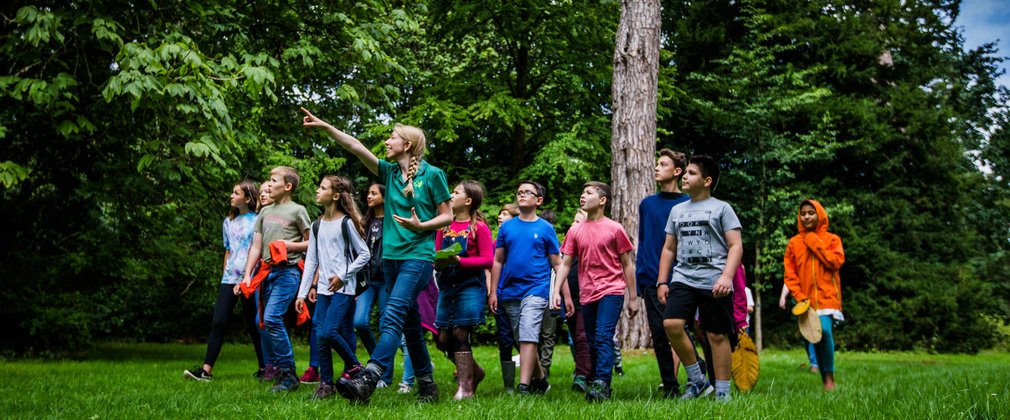 Being a teacher is hard work. Being a teacher during COVID-19 is incredibly hard work. You've been adapting at pace, organising bubbles and staff logistics, and continually striving to ensure children and young people remain engaged and learning whether at home or at school.  
We know that you've been looking out for everyone else's wellbeing and that can sap us of our energy and leave us feeling drained. That's why we want you to take some time out and allow the forest to help you recharge, regain balance and have some time for you!
So take a moment to sit back, make yourself a cuppa and allow us to look after you.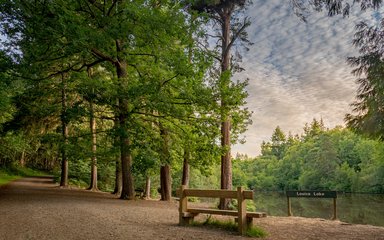 When we feel stressed, we can lose our perspective and patience. It can be hard to escape the feeling of being overwhelmed.
Often we become tempted to turn to technology, scrolling through social media or checking email notifications 'just in case', keeping busy with constant distractions. Scattering our attention by constantly switching tasks can actually increase stress however. At the same time, just stopping and 'doing nothing' can also feel overwhelming. So what's the answer?
Well that's where forests come in. The sights, sounds and smells of the forest environment provide a gentle sensory stimulation that softly captures the attention, fascinates our busy minds, and allows us to become immersed in nature.
Did you know?
Forest bathing, or shinrin yoku, is a Japanese practice of relaxation. The simple method of being calm and quiet amongst the trees, observing nature around you whilst breathing deeply can help both adults and children de-stress and boost health and wellbeing in a natural way.
Boost your well-being and have a go at this 360 degree immersive experience video.
Simply turn off your devices, sit somewhere comfortable and take a few moments to:
Pause – focus on your breathing and taking slow deep breaths

Listen to the sounds of the forest

Look up into the canopy and down to the forest floor

Imagine the breeze on your arms, the sun breaking through the leaves and warming your face

This is your time, stay as long as you wish
And if you enjoyed that, you can continue to transport yourself to the heart of the forest with the help of our virtual forest bathing gallery and videos.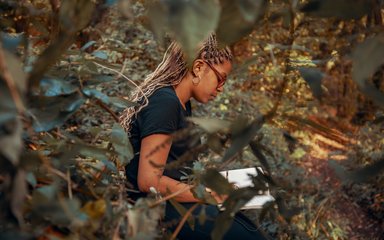 Forests offer unique sensory experiences, a chance to regain balance and escape from the pressures of everyday life.
Researchers have found that reading offers health and wellbeing benefits including reducing stress, preventing cognitive decline, improving sleep and can also enhance social skills and boost intelligence.
We might not always be able to physically get to a forest, but we can get lost in a good story and be transported to another world, providing an opportunity to recharge in the hands, or words, of another person.
Discover the magic of the forest as captured and brought to life by our writers in residence Zakiya Mackenzie and Tiffany Francis-Baker.
Forests provide a backdrop to a huge variety of activities and are the perfect place to improve physical and mental health.
Studies show that forests make physical activity feel easier and more enjoyable compared to working out indoors, while getting active in forests can provide much-needed distraction from fatigue, increases the satisfaction you feel after your workout and plays a major role in reducing stress and improving mood.
Whether you choose a gentle woodland walk or adrenaline-fuelled bike ride, being active in the forest will make you feel great and have you feeling revitalized and ready for the start of the school year.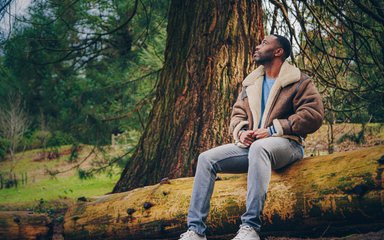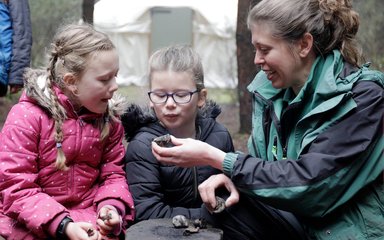 Planning for the new school year is underway, and looking after your health and wellbeing is now more important than ever.
Next month we will be sharing more ideas and resources to help you maintain your equilibrium and support your students as they adapt to being back in the classroom. Follow us on Facebook or subscribe to the learning newsletter to be the first to hear!
Can't wait? If you want a sneak preview, bring the outside in, clear a space and lead your class with our Forest Bathing activity sheet. Or maybe try our Tree of Life wellbeing activity sheet - useful for helping your class to think about what is important to them and encouraging them get to know new class mates.