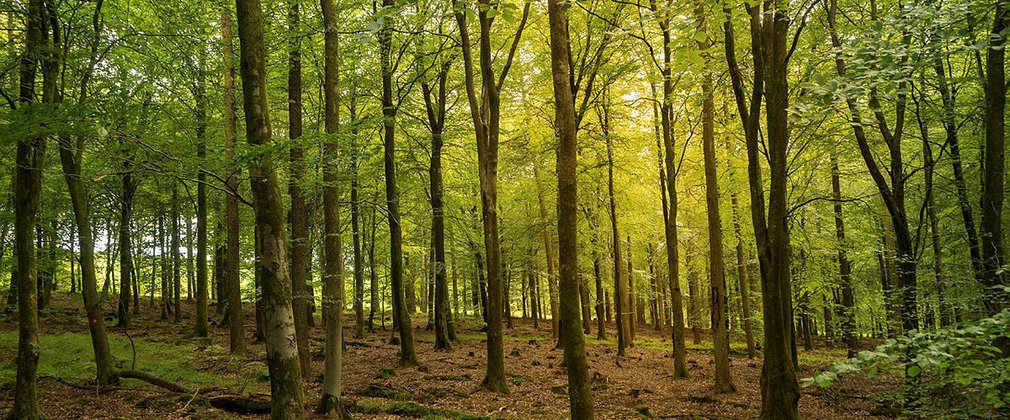 Beat the heat in the cooling shade of the nation's forests
As the temperatures soar and the heatwave brings scorching days, finding ways to cool off is essential. And when the sweltering heat of the city becomes too much, heading to the cool shade of a forest is just what's needed. Forestry England looks after 1,500 of the nation's forests and woodlands, and with 99% of people living within an hour's drive of one of these special places, they're in easy reach as the mercury climbs higher. We've pulled together our favourite city escape forest spots within an hour of London, Bristol, Newcastle and Manchester that are ideal for cooling down under the tree canopy with friends or family. 
And to help boost your feeling of calm and wellbeing, you could try a spot of forest bathing as you wander through or sit amongst the trees. Forest bathing, known in Japan as shinrin yoku is a simple relaxation process of practising being calm and quiet amongst the trees, observing nature around you whilst breathing deeply. It can help both adults and children de-stress and boost health and wellbeing in a natural way and would be wonderful to try on a hot day in the cool of a woodland.
Ellen Devine, Wellbeing Manager, Forestry England, says;
"Heading into the cool, dappled shade of my local woodland at the end of a hot, sticky day in the city always does me the world of good. It's a fantastic reset for my mind and gives me a chance to physically relax as I steady my breathing and take in the sights of lush, green mosses, so many shades of green in the leaves of the trees and the soothing summer sounds of the forest around me.

"As we feel the changes and pressures of climate change, it's good for all of us to be aware of the important role the nation's forests are playing by providing us with these incredible landscapes to enjoy and explore, absorbing carbon, giving wildlife a home and cooling the atmosphere." 
As the heatwave continues, the risk of forest fires is high. Forestry England is asking visitors to help prevent fires by not using disposable BBQs and making sure they stay safe in the extreme temperatures by bringing water and sun cream. And by timing a visit for the early morning or evening, people can avoid more crowded times and the hottest part of the day.
Enjoy Forestry England's heat-beating forest list:
Home to 360 acres of newly planted woodlands, meadows and orchards, this beautiful location is not far from Dartford in Kent and offers activity trails, shaded walks and even a spot for the dogs to paddle. Visiting with little ones? Don't miss the Fairy and Elf Village where the kids can explore Mushroom Manor and The Old Boot Inn, whilst you enjoy a cool drink from the cafe nearby.
This wonderful forest centre is set amongst a landscape of woods, meadows, ponds and paths - perfect for staying cool this summer and adventuring out of the city. There are lots of picturesque picnic spots for your packed lunches as well as play areas for children to enjoy.
Alice Holt Forest, near Farnham, Hampshire, 46 miles from Central London
For an action-packed day out in the forest, Alice Holt is well worth the extra journey time. With scenic walking trails, bike hire, a Go Ape Tree Top adventure course plus picnic areas on offer, you certainly won't be short of things to do on arrival. Be sure to check the events page to see what's going on at the activity centre. Check out the Lodge Pond trail for 2.4 miles of scenic woodland and mature pine forest - perfect for cooling down on a summer's day.
Beechenhurst, Forest of Dean, Speech House Road, Coleford, 25 miles from central Bristol
The perfect picnic spot, with wide open lawns, shaded benches in the trees, and a wonderful café - it's no wonder Beechenhurst is so popular with Bristolians. Experience the jaw-dropping Forest of Dean sculpture trail. Keep your eyes peeled for a giant stained-glass window hanging from the trees. The sculptures on this trail are inspired by the forest - its trees, wildlife and industrial past. It features pieces by famous artists set in the beautiful surroundings of the Forest of Dean. You can get to Beechenhurst car-free from Bristol too (so shake that fossil-fuel guilt). Just jump on the train to Gloucester, then catch the Stagecoach bus 30. More details on the Good Journey website. We've got no entry charge at our sites, so if you come without a car, it's a cost-effective day out.
Wenchford, Forest of Dean, New Road, Blakeney, 23 miles from Bristol
Wenchford offers the perfect place to beat the Bristol heat. A popular picnic site with picnic tables and an easy access path and – for when it all gets a bit too hot – a paddling area. Blackpool Brook trickles through the site under the dappled shade of the large oak trees. An idyllic spot to come with family or friends, once you arrive, you'll never want to go back to Bristol!
Delamere Forest, Frodsham, Cheshire, 34 miles from central Manchester
Just an hour's train journey from Manchester, Delamere is an oasis in the summer. Offering beautiful views of Blakemere Lake and quiet shaded spots for a walk or cycle, this is the perfect spot to spend a sunny day out. Don't forget to bring lunch to enjoy at one of the many picnic spots you'll find in the forest. Venture away from the visitor centre on the Old Pale trail or hire bikes and explore the forest on two wheels – you'll love the breeze as you cycle along!
Drinkwater Park, Salford, Manchester, 6.4 miles from central Manchester
Escape the hustle and bustle of city centre Manchester and cool off with a visit to Drinkwater Park on the edge of Salford. Home to a diverse mix of native woodland, open meadows and the river Irwell. Leave your car behind and use public transport to get here. Drinkwater Park is totally accessible by train or bus, so you don't need to worry about getting stuck in traffic. Located just to the west of Salford you can catch the number 93 to the entrance of the park or travel via train to Swinton and walk.
Sutton Manor, St Helens, 24 miles from Manchester
This 230-acre woodland next to the M62 in St Helens was transformed from a former colliery site in 2001 and over two million trees have been planted, making it a great place to head on a hot summer's day. A highlight is the Jaume Plensa's Dream sculpture, 20 metres high representing a girl's head in a dream-like state. It's a wonderful piece to look at whilst walking through the paths and growing trees. Sutton Manor is part of the Bold Forest Park – an interconnecting series of woodlands across the area.
Rochdale Woodlands, Rochdale, 13 miles from central Manchester
Take a trip from Manchester Piccadilly on the picturesque TransPennine Express to cool off in the beautiful Rochdale Woodlands. River Roch runs through the woodland, with trees on either side providing much welcomed shade in the summer heat! As you walk, keep an eye out for woodpeckers, dippers and kingfishers which are a regular sighting here, along with many other wildlife.
Chopwell Wood, Rowlands Gill, Gateshead, 8 miles from Newcastle
This 360-hectare mixed woodland is a real gem, set right on the fringe of Gateshead. With miles of trails ideal for cycling and walking right into the heart of this fascinating woodland. Walk the Old Railway Footpath for a short stroll and discover the railway line that used to carry coal from Chopwell and High Spen Collieries to Derwenthaugh Cokeworks.
Hamsterley Forest, Bishop Auckland, County Durham, 28 miles from Newcastle
With picturesque woodlands that sprawl along a sheltered valley, it's the perfect spot for a day out with friends and family. There's something to keep all members of your group busy all day, Hamsterley Forest is the place to come for the best outdoor children's play! Kick your shoes off and cool down on a hot day with a paddle by the river.
Slaley Forest, Northumberland, 23 miles from Newcastle
Overlooking Derwent Reservoir and surrounded by beautiful Pennine landscapes, Slaley Forest is a tranquil forest to explore and offers plenty of walking routes to enjoy the atmosphere and calmness. Park in the nearby layby and explore this stunning woodland along forest paths.
Notes to editor
Forestry England manages and cares for the nation's 1,500 woods and forests, with over 363 million visits per year. As England's largest land manager, we shape landscapes and enhance forests for people to enjoy, wildlife to flourish and businesses to grow. We are continuing the work we have already started to make the nation's forests resilient to climate change and by 2026 we will:   
create at least 6,000 more hectares where we integrate wilding activities in our productive forests. 

increase the diversity of visitors to the nation's forests and have one million hours of high-quality volunteer time given to the nation's forests 

plant at least 2,000 hectares of new, high quality, predominantly broadleaf woodlands 
For more information visit forestryengland.uk. Forestry England is an agency of the Forestry Commission.
Media Contact:
Naomi Fuller, Media Relations Officer |e: media@forestryengland.uk  |t: 07825 255618|