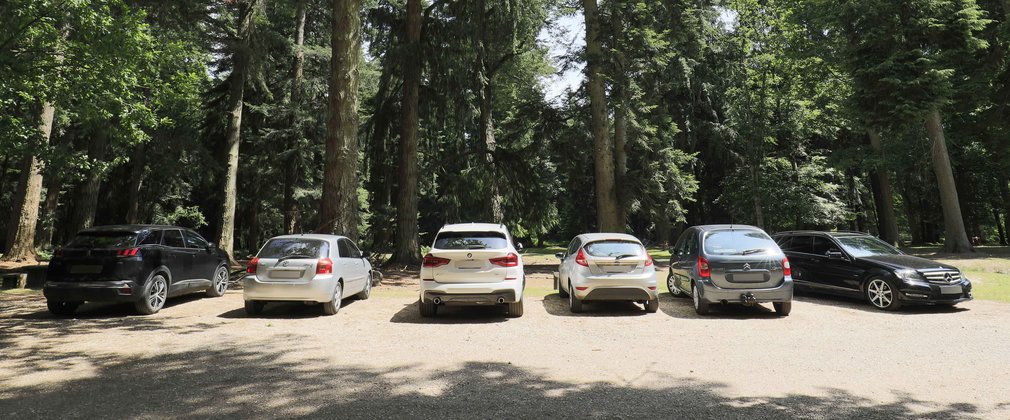 New Forest car parks with toilets and closure updates
Forestry England provides over 100 free car parks in the New Forest. If you find one is full on arrival, please drive on to the next one. There are plenty of alternative tracks to use, or places to park in the beautiful surroundings of the New Forest, so please don't obstruct gateways and car park entrances with vehicles, or park on the grass verges.
Between August and November some car parks are closed for the New Forest Drift. Follow the links on this page to find out about any car park closures, or cycle and walking routes affected by forestry operations.
Forestry England Car Parks with toilets:
The following other car parks we provide are open most of the year:
| | | |
| --- | --- | --- |
| Name of car park | Grid ref | Google map link |
| Acres Down, near Minstead | SU267097 | https://goo.gl/maps/9y1F1DMSCJU1ZRZs9 |
| Anderwood, near Burley | SU249056 | https://goo.gl/maps/FBYmXBrSsc8xnvrm8 |
| Andrews Mare, just off the A31 | SU255112 | https://goo.gl/maps/YAF57627ssBKJm8WA |
| Appleslade, near Linwood | SU184092 | https://goo.gl/maps/Yqo9s5ghi4KKYZxy5 |
| Ashley Walk, near Fordingbridge | SU186156 | https://goo.gl/maps/uLh9Ba8VAEayEYso9 |
| Beachern Wood, Brockenhurst | SU284026 | https://goo.gl/maps/LmcMyZzqvkaaF79t6 |
| Beaulieu Heath, East Boldre | SU358006 | https://goo.gl/maps/Bgpx3KeetSpRk7UU9 |
| Blackwater, near Brockenhurst | SU267046 | https://goo.gl/maps/YspeBALhDVoVY6Jj7 |
| Bolderwood, near Minstead | SU242086 | https://goo.gl/maps/LWJEFGm58q8gGWcu7 |
| Boltons Bench, Lyndhurst | SU303081 | https://goo.gl/maps/nYFRAQGDGsTpG2HB6 |
| Bramble Hill Walk | SU249153 | https://goo.gl/maps/6cQuRmqn3KACosHB7 |
| Bratley View, near Minstead | SU237095 | https://goo.gl/maps/UeohtfJSv8jMN5LE8 |
| Burbush, near Burley | SU202017 | https://goo.gl/maps/UeohtfJSv8jMN5LE8 |
| Burley | SU213028 | https://goo.gl/maps/sdqS5kVJNDzLiBSm7 |
| Burley Cricket | SU215029 | https://goo.gl/maps/MRkeYHoch723HjmY8 |
| Busketts Lawn, near Ashurst | SU311111 | https://goo.gl/maps/QYpJ9CZf6ULnn6Js8 |
| Cadmans Pool, near Bramshaw | SU229122 | https://goo.gl/maps/2GufgtNMaddsbxjt9 |
| Cadnam Cricket, on A337 | SU295128 | https://goo.gl/maps/Brchy9CduiV67RWG8 |
| Darkwater | SU433012 | https://goo.gl/maps/pMziUy77oe7fkJw77 |
| Deerleap, near Ashurst | SU353094 | https://goo.gl/maps/zuM8uvj21DKGmMLm6 |
| Dibden Inclosure, near Beaulieu | SU406057 | https://goo.gl/maps/6K7z3eanKvdtMMoC8 |
| Eyeworth Pond, near Fritham | SU228146 | https://goo.gl/maps/8MHoMYMJWWtrYoob8 |
| Football Green, Minstead | SU290110 | https://goo.gl/maps/DbJQ63zavAKrgttv8 |
| Fritham | SU229140 |   |
| Goatspen, near Burley | SU228015 | https://goo.gl/maps/1ikoZB8oxeqifjKs7 |
| Godshill, near Woodgreen | SU176160 | https://goo.gl/maps/jMhcUSK7NrBKUbfm8 |
| Hatchet Moor | SU365011 | https://goo.gl/maps/zMiHWr44oPSrKhzL8 |
| Hatchet Pond, near Beaulieu | SU369016 | https://goo.gl/maps/g65ts3VZ3ZVUeELG7 |
| Holmsley, near Burley |   | https://goo.gl/maps/nzfLhCuh7HEH4RjaA |
| Horseshoe Bottom, near Sway | SU262005 | https://goo.gl/maps/9tDXjqak8pecaTqE9 |
| Janesmoor Pond | SU246136 | https://goo.gl/maps/fYgwoTiKUuxXEPFT6 |
| Kings Hat | SU386054 | https://goo.gl/maps/aRNmrfWKwMMznE8w7 |
| Knightwood Oak, Rhinefield Ornamental Drive | SU263062 | https://goo.gl/maps/ZS3HmceJA3MiygwX6 |
| Linford Bottom | SU181071 | https://goo.gl/maps/oddWn4eUtFCxUsK57 |
| Longcross | SU250150 | https://goo.gl/maps/gubxACbqtfxXKcXx7 |
| Longdown, near Marchwood | SU361087 | https://goo.gl/maps/HV1CbmXJXqLmYaN77 |
| Longslade Bottom, near Sway | SU269001 | https://goo.gl/maps/ECr2dJzcbv8KMh677 |
| Marchwood Inclosure | SU391073 | https://goo.gl/maps/N2qAfXnFLbZmaguJA |
| Matley, near Lyndhurst | SU331073 | https://goo.gl/maps/NMkTzHFjDtQaxU7B8 |
| Milkham | SU216101 | https://goo.gl/maps/JvhRg9teoPpexLnb8 |
| Millyford Bridge, near Lyndhurst | SU267078 | https://goo.gl/maps/q6RSJvmPmgjsLPto6 |
| Mogshade, near Minstead | SU240093 | https://goo.gl/maps/Y6Lo5cUaihfUQQVUA |
| Moonhills, near Beaulieu | SU408025 | https://goo.gl/maps/7CBEy2t46qtBVFJb8 |
| Norley Wood, near East Boldre | SZ346980 | https://goo.gl/maps/eHZSo3t5NedaShB98 |
| Oakley, near Burley | SU225046 | https://goo.gl/maps/btQ8uWDEMnz1gQU38 |
| Parc Pale, Lyndhurst | SU307079 | https://goo.gl/maps/UH6huSspE3RTXGif6 |
| Picket Post, near Ringwood | SU192057 | https://goo.gl/maps/tT8Xh6zEbeRAYWF58 |
| Pig Bush, near Beaulieu | SU362050 | https://goo.gl/maps/rXLYy3WNzSgNMyKP9 |
| Puttles Bridge, Brockenhurst | SU271029 | https://goo.gl/maps/eeZf699Vb6wucXG26 |
| Reptile Centre, near Lyndhurst | SU270071 | https://goo.gl/maps/NiCZKBnNYi48zeZH8 |
| Rufus Stone, near Minstead | SU270125 | https://goo.gl/maps/gqtdAsGxAwRuhhs7A |
| Setley Pond, near Brockenhurst | SZ302992 | https://goo.gl/maps/p9zWkh4Mus4D2hBz7 |
| Shirley Holms, near Sway | SZ298984 | https://goo.gl/maps/D4dKxW68je7bApC28 |
| Smugglers Road, near Burley | SU188040 | https://goo.gl/maps/edwzgkptk93JdWJk6 |
| Standing Hat, Brockenhurst | SU314036 | https://goo.gl/maps/AeHdrXQmxQsEMNnR7 |
| Stoney Cross | SU248126 |   |
| Stoney Cross Plain | SU247125 |   |
| Swan Green, Lyndhurst | SU289082 | https://goo.gl/maps/mECdoNpTymemwFKj8 |
| Telegraph Hill, near Fordingbridge | SU228166 | https://goo.gl/maps/wndLGTUMyAFW4BH26 |
| Tilery Road, Brockenhurst | SU308032 | https://goo.gl/maps/QZ32Ge1AE3TwWDPeA |
| Turf Hill, on B3080, Hale | SU212176 | https://goo.gl/maps/Bef2GFtnzZ6nNvhu9 |
| Vereley, near Ringwood | SU196051 | https://goo.gl/maps/Tb1x4QBHJGveRGtb6 |
| Whitefield Moor, Brockenhurst | SU274027 | https://goo.gl/maps/ccnjww7eBq8ofWMz7 |
| Whitemoor Pond, Brockenhurst | SU277024 | https://goo.gl/maps/NiAHNCHrCWXWwj6J8 |
| Whitley Wood, near Brockenhurst | SU300055 | https://goo.gl/maps/ZfDyjVv6isc1YRY26 |
| Wilverley Inclosure | SU253006 | https://goo.gl/maps/kJ9i6DP39Xusmi1y7 |
| Wilverley Pit, near Burley | SU256012 | https://goo.gl/maps/GxFo4fZiLtpnnuzv6 |
| Wilverley Plain, near Burley | SU254009 | https://goo.gl/maps/6BY2bCSdfMzTGnju7 |
| Woods Corner, Burley | SU219041 | https://goo.gl/maps/qy7oQ1ntoAU2sdjG9 |
| Wootton Bridge, near Sway | SU250997 | https://goo.gl/maps/7wetda4zN4DDaCF5A |