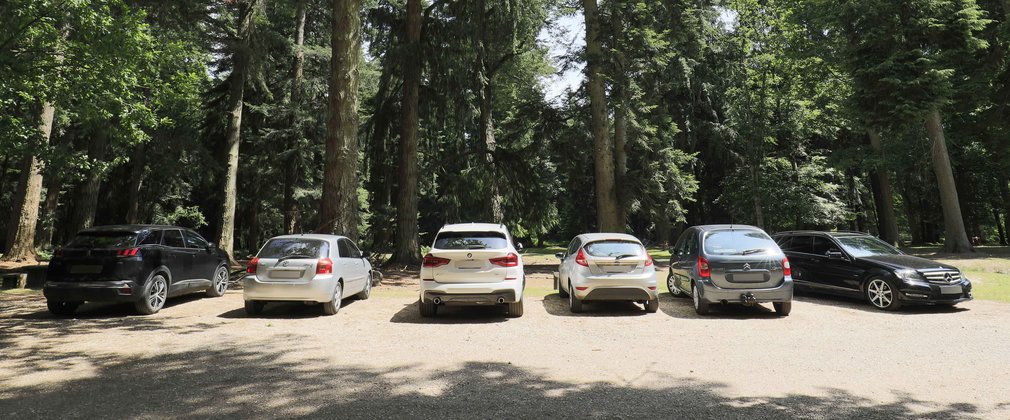 New Forest car parks with toilets and closure updates
We provide over 100 free car parks in the New Forest. If you find one is full on arrival, please drive on to the next one. There are plenty of alternative tracks to use, or places to park in the beautiful surroundings of the New Forest, so please don't obstruct gateways and car park entrances with vehicles, or park on the grass verges, thank you.
Car park closures
Please see our closed car parks page for the latest information on closures.
Car parks with toilets
Car parks list
New Forest car parks in alphabetical order:
Car park

Grid ref

Google Maps

what3words

Acres Down, near Minstead

SU267097

https://goo.gl/maps/9y1F1DMSCJU1ZRZs9
airliners.bluffing.marinated
Anderwood, near Burley

SU249056

https://goo.gl/maps/FBYmXBrSsc8xnvrm8
wealth.those.peachy

Andrews Mare, just off the A31

SU255112

https://goo.gl/maps/YAF57627ssBKJm8WA
marbles.listed.turntable

Appleslade, near Linwood

SU184092

https://goo.gl/maps/Yqo9s5ghi4KKYZxy5

watched.richest.massaged

Ashley Walk, near Fordingbridge

SU186156

https://goo.gl/maps/uLh9Ba8VAEayEYso9
outbursts.bolts.bucket
Balmer Lawn
SU304032
https://goo.gl/maps/K9WwhsBAweLkDdzV8
skewed.hobble.adopters
Barrow Moor
SU253067
https://goo.gl/maps/esfQZ8JUWhLieakT6
sponsors.forced.lawfully

Beachern Wood, Brockenhurst

SU284026

https://goo.gl/maps/LmcMyZzqvkaaF79t6
wiggling.tonight.freezing

Beaulieu Heath, East Boldre

SU358006

https://goo.gl/maps/Bgpx3KeetSpRk7UU9
rocker.frosted.offstage
Beaulieu Road
SU351064
https://goo.gl/maps/wdtoX46G1zmSEVZi9
decay.corals.pickup
Blackwater, near Brockenhurst

SU267046

https://goo.gl/maps/JcCueTKFtFtkc3P19
bluntly.spite.submitted
Blackwell Common
SU436016
https://goo.gl/maps/sNJnYTY1NRKx1vaq8
spinners.served.braced
Bolderwood, near Minstead

SU242086

https://goo.gl/maps/SuR5ZScABDNvJYkU9
damage.establish.limbs
Boltons Bench, Lyndhurst

SU303081

https://goo.gl/maps/nYFRAQGDGsTpG2HB6
arose.dormant.coasted
Boundway
SZ262984
https://goo.gl/maps/XjGh5PJbsPvFNqux5
paths.challenge.loyal

Bramble Hill Walk

SU249153

https://goo.gl/maps/6cQuRmqn3KACosHB7
shoulders.cakes.orbited
Bramshaw Wood
SU257173
https://goo.gl/maps/E1E26YX43Jxg562M7
scoop.recall.upholds

Bratley View, near Minstead

SU237095

https://goo.gl/maps/UeohtfJSv8jMN5LE8
purely.proved.headlines
Broadley
SZ246989
https://goo.gl/maps/uHoouNYUNJXbfpsM9
acids.fairy.direction
Brock Hill
SU266057
https://goo.gl/maps/F5ox2tFtpyhVBPyV9
gangway.demand.giants
Broomy Walk
SU196099
https://goo.gl/maps/PjyNeAgCMSBnq4RX9
ooze.stow.enjoys
Brownhills
SZ226993
https://goo.gl/maps/xiXjfSUEVfkeHLM66
ramps.boomed.rush
Bull Hill
SZ341978
https://goo.gl/maps/rHBJosP8HKSkTfMA9
backyards.racetrack.zoom

Burbush, near Burley

SU202017

https://goo.gl/maps/kQrtGNP2qTZ9VoTJ6
enough.decide.tour

Burley

SU213028

https://goo.gl/maps/sdqS5kVJNDzLiBSm7
hatter.tango.garlic

Burley Cricket

SU215029

https://goo.gl/maps/MRkeYHoch723HjmY8
rotate.scarcely.countries

Busketts Lawn, near Ashurst

SU311111

https://goo.gl/maps/QYpJ9CZf6ULnn6Js8
greyhound.owes.flow

Cadmans Pool, near Bramshaw

SU229122

https://goo.gl/maps/2GufgtNMaddsbxjt9
skim.desk.vertical

Cadnam Cricket, on A337

SU295128

https://goo.gl/maps/Brchy9CduiV67RWG8
thrones.decay.plotter
Castle Hill
SU170166
https://goo.gl/maps/1YscMRJEcJho8D3N7
senders.breezes.liquids
Clay Hill, near Lyndhurst
SU302062
https://goo.gl/maps/JoxkHSb77zRN7RTq6
clips.brew.casually
Crockford, near Lymington
SZ349988
https://goo.gl/maps/1J9BcwaXVAh9GCHT7
foal.gossiped.shiny
Crockford Clump, near Lymington
SZ352991
https://goo.gl/maps/pD769T73xXcCymMWA
rash.became.numeral
Culverley, near Hythe
SU367046
https://goo.gl/maps/iaPwKgrT7fssVzjb7
mixed.pushy.pays

Darkwater, near Hythe

SU433012

https://goo.gl/maps/2dyAMEZkGBn1Qkqc8
riots.browsers.bedding
Deadman Hill, near Fordingbridge
SU192165
https://goo.gl/maps/jH8pJrYTnFXf8dgX7
factoring.pylon.elite

Deerleap, near Ashurst

SU353094

https://goo.gl/maps/zuM8uvj21DKGmMLm6
bath.trio.beard

Dibden Inclosure, near Beaulieu

SU406057

https://goo.gl/maps/6K7z3eanKvdtMMoC8
fixed.tamed.trucks
Eyeworth Pond, near Fritham

SU228146

https://goo.gl/maps/8MHoMYMJWWtrYoob8

advances.retrain.plump

Football Green, Minstead

SU290110

https://goo.gl/maps/wRY4GQHr47jETxgu7
chambers.hockey.rips

Fritham

SU229140

https://goo.gl/maps/BMvGzjuBAZ9h9rnP9
gained.dialects.craftsman

Goatspen, near Burley

SU228015

https://goo.gl/maps/1ikoZB8oxeqifjKs7
cycles.expectant.uptown
Godshill Cricket
SU181150
https://goo.gl/maps/ZJSt4k7L1MKm5qPW9
bitters.corkscrew.maple
Godshill Pit
SU175159
https://goo.gl/maps/8VEeULTE2xAQRPEi7
pint.than.allowable

Godshill, near Woodgreen

SU176160

https://goo.gl/maps/jMhcUSK7NrBKUbfm8

unite.cheek.plugs

Hatchet Moor

SU365011

https://goo.gl/maps/zMiHWr44oPSrKhzL8
wobbling.window.slouched
Hatchet Pond, near Beaulieu

SU369016

https://goo.gl/maps/g65ts3VZ3ZVUeELG7
screaming.jumpy.like
Hawkhill
SU351019
https://goo.gl/maps/8r8htusu1kK2uAFU6
heaven.truffles.lucky
Hazel Hill
SU289117
https://goo.gl/maps/f15Ko2kVKriqQgr37
life.situates.flexibly
High Corner
SU199104
https://goo.gl/maps/awBNV6Uop5GosQfa9
creeps.veal.punctuate
Highland Water, near Lyndhurst
SU247083
https://goo.gl/maps/AH5hVhCuFCYTkJ5b7
vanish.plugs.sliding
Hincheslea, near Sway
SU270013
https://goo.gl/maps/NoqkW4HV53Ebjsrp6
flush.crib.headlines
Hincheslea Moor, near Sway
SU266013
https://goo.gl/maps/X8cmKkFs34BhCx828
work.joys.cling
Holmsley Walk, near Bransgore
SZ209993
https://goo.gl/maps/pTj2GMuvVgPPN1D8A
tablet.cheering.templates

Holmsley, near Burley

SU221011

https://goo.gl/maps/nzfLhCuh7HEH4RjaA

stocked.confetti.tasks

Horseshoe Bottom, near Sway

SU262005

https://goo.gl/maps/9tDXjqak8pecaTqE9
exit.limits.brings
Ivy Wood
SU315025
https://goo.gl/maps/6q33L7sV6qeb5kX58
spruced.hero.innovator
James Hill
SU282083
https://goo.gl/maps/FhgukvfZbZDh2TCF8
wreck.avoid.monk

Janesmoor Pond

SU246136

https://goo.gl/maps/fYgwoTiKUuxXEPFT6
erupts.overruns.rated

Kings Hat

SU386054

https://goo.gl/maps/aRNmrfWKwMMznE8w7
damp.woods.asset
Knightwood Oak, Rhinefield Ornamental Drive

SU263062

https://goo.gl/maps/uuLWsnKUn8wmvL4G6
insect.detained.cabbies

Linford Bottom

SU181071

https://goo.gl/maps/oddWn4eUtFCxUsK57
picture.brotherly.highly

Longcross, near Cadnam

SU250150

https://goo.gl/maps/povct7tSAn198FVG8
changing.scrubbing.winks

Longdown, near Marchwood

SU361087

https://goo.gl/maps/AYFbnshbBFPRwXUQ9
employ.formed.darker

Longslade Bottom, near Sway

SU269001

https://goo.gl/maps/ECr2dJzcbv8KMh677
grove.vows.saves
Longslade Heath

, near Sway

SU258007
https://goo.gl/maps/b4pyK4YzQrcXef2R7
foam.ejects.airbase
Longslade View

, near Sway

SU278000
https://goo.gl/maps/patUXPhwqeGKNgi76
values.boasted.prettiest
Lord's Oak, near Bramshaw
SU261173
https://goo.gl/maps/ZkHjG33HAKHwBZgy7
sues.quaking.footpath
Lucy Hill, near Burley
SU226045
https://goo.gl/maps/t7hw6LJhZZriNsz68
caves.flames.witty

Marchwood Inclosure, near Hythe

SU391073

https://goo.gl/maps/N2qAfXnFLbZmaguJA
tummy.atomic.ships

Matley, near Lyndhurst

SU331073

https://goo.gl/maps/NMkTzHFjDtQaxU7B8

second.spaces.comforted

Milkham, near Burley

SU216101

https://goo.gl/maps/JvhRg9teoPpexLnb8
bland.mixing.global
Mill Lawn, near Burley
SU223033
https://goo.gl/maps/xh6vuJk5uZHApb316
meal.succeed.stated

Millyford Bridge, near Lyndhurst

SU267078

https://goo.gl/maps/q6RSJvmPmgjsLPto6
thankful.rebel.films
Minstead Road
SU295105
https://goo.gl/maps/ej49y5WEJKeUehVn6
drums.prune.shop

Mogshade, near Minstead

SU240093

https://goo.gl/maps/8W7gNmDSwX3gD4Q78
rarely.notices.flush

Moonhills, near Beaulieu

SU408025

https://goo.gl/maps/7CBEy2t46qtBVFJb8
release.quail.extreme

Norley Wood, near East Boldre

SZ346980

https://goo.gl/maps/eHZSo3t5NedaShB98

scrapped.breathy.aunts
Northgate, near Hythe
SU385048
https://goo.gl/maps/gfE7ArrcjrsiZSCA7
found.spike.ruby

Oakley, near Burley

SU225046

https://goo.gl/maps/btQ8uWDEMnz1gQU38
region.sonic.eyeliner
Ocknell Pond, near Cadnam
SU231119
https://goo.gl/maps/82XhmVy8nKQMJCkQ8
comedy.afterglow.trip

Parc Pale, Lyndhurst

SU307079

https://goo.gl/maps/UH6huSspE3RTXGif6
intrigued.prime.wharfs

Picket Post, near Ringwood

SU192057

https://goo.gl/maps/tT8Xh6zEbeRAYWF58

glows.lonely.emerald

Pig Bush, near Beaulieu

SU362050

https://goo.gl/maps/rXLYy3WNzSgNMyKP9
again.mixed.test
Piper's Wait, near West Wellow
SU249165
https://goo.gl/maps/pxnQ3gFm4nY1ETfZ7
hexes.school.huddle

Puttles Bridge, Brockenhurst

SU271029

https://goo.gl/maps/eeZf699Vb6wucXG26

soups.regular.pedicure
Rans Wood, near Beaulieu
SU366025
https://goo.gl/maps/4DkBq1aUeDqQYtWZ9
anguished.curl.openings
Reptile Centre, near Lyndhurst

SU270071

https://goo.gl/maps/NiCZKBnNYi48zeZH8
chuckle.realm.debater
Roundhill, near Cadnam
SU265141
https://goo.gl/maps/Ba15bRfcaHaVXQrG8
redouble.slings.lives

Rufus Stone, near Minstead

SU270125

https://goo.gl/maps/gqtdAsGxAwRuhhs7A
announced.seat.visit

Setley Pond, near Brockenhurst

SZ302992

https://goo.gl/maps/p9zWkh4Mus4D2hBz7
buying.forecast.shatters
Setthorns, near Sway
SZ272997
https://goo.gl/maps/YQFFZekrVfQ7sNQB8
carpentry.darker.risks
Shatterford, near Marchwood
SU348064
https://goo.gl/maps/uEvDCXXMypgZKFzR9
stalemate.flamed.protrude
Shave Wood, near Cadnam
SU293121
https://goo.gl/maps/Ue5Vg8Zx94nUCSkE6
bangle.toads.gems
Shepherd's Gutter, near Bramshaw
SU261153
https://goo.gl/maps/ZXCMLq8NGL3vBPtN9
banter.hacksaw.additives

Shirley Holms, near Sway

SZ298984

https://goo.gl/maps/2qTBURVk5jNBpAup8
material.streaking.extra

Smugglers Road, near Burley

SU188040

https://goo.gl/maps/edwzgkptk93JdWJk6

penny.tailwind.ditched
Spring Bushes, near Fordingbridge
SU202102
https://goo.gl/maps/4KbXhx4Xmh7k67ZSA
cure.decoded.foggy

Standing Hat, Brockenhurst

SU314036

https://goo.gl/maps/AeHdrXQmxQsEMNnR7
stolen.inviting.infuses
Stockley
SU345019
https://goo.gl/maps/HNTCa5Be5oE6hJtA7
conspire.trade.pushy

Stoney Cross, near Cadnam

SU248126

https://goo.gl/maps/grqr3VYmA2hkvmtQ9
shortcuts.torched.releasing

Stoney Cross Plain, near Cadnam

SU247125

https://goo.gl/maps/UgJLz1inC5iWhZLm9
riverbank.small.swoop

Swan Green, Lyndhurst

SU289082

https://goo.gl/maps/mECdoNpTymemwFKj8
brisk.saves.divide

Telegraph Hill, near Fordingbridge

SU228166

https://goo.gl/maps/wndLGTUMyAFW4BH26
workshop.tomb.headsets
Tilery Road, Brockenhurst

SU308032

https://goo.gl/maps/QZ32Ge1AE3TwWDPeA
sweep.signs.gasping

Turf Hill, on B3080, Hale

SU212176

https://goo.gl/maps/Bef2GFtnzZ6nNvhu9
repaid.firewall.circling
Vereley Hill, near Burley
SU195050
https://goo.gl/maps/tAfXjdExDwBhabUD6
messing.pocketed.pine

Vereley, near Burley

SU196051

https://goo.gl/maps/Tb1x4QBHJGveRGtb6

cuts.employers.braked
Vinney Ridge, near Lyndhurst
SU260057
https://goo.gl/maps/erpe32SKe4abeGAM8
backtrack.releases.inch
Whitefield Moor, Brockenhurst

SU274027

https://goo.gl/maps/ccnjww7eBq8ofWMz7
calm.pram.constants
Whitemoor, near Lyndhurst
SU276081
https://goo.gl/maps/fhmJULq6UjLM6aQs6
belly.compress.skewing

Whitemoor Pond, Brockenhurst

SU277024

https://goo.gl/maps/NiAHNCHrCWXWwj6J8
coconut.stooping.everybody

Whitley Wood, near Lyndhurst

SU300055

https://goo.gl/maps/ZfDyjVv6isc1YRY26

stale.logbook.asleep
Wilverley Inclosure, near Sway

SU253006

https://goo.gl/maps/sNNN5bVkv569U6sz5
limits.asset.secret

Wilverley Pit, near Burley

SU256012

https://goo.gl/maps/GxFo4fZiLtpnnuzv6
brink.nation.cost

Wilverley Plain, near Burley

SU254009

https://goo.gl/maps/6BY2bCSdfMzTGnju7

swelling.foggy.palms

Woods Corner, Burley

SU219041

https://goo.gl/maps/qy7oQ1ntoAU2sdjG9
enjoys.sprayed.resist
Woosons, near Lyndhurst
SU256066
https://goo.gl/maps/FY8rQb9KpsQ22U7a7
shaves.chap.names

Wootton Bridge, near Sway

SZ250997

https://goo.gl/maps/7wetda4zN4DDaCF5A
ramming.pilots.mows
Yew Tree Bottom, near Sway
SU253003
https://goo.gl/maps/QCveRBUNc8RvVYQM9
soon.washed.forgotten